A Glossary of Organising, Decluttering & Interiors terms
Every profession needs its own language and vocabulary. A collection of words and phrases which help to articulate and explain the unique aspects of the work. Home Organising, as a newer and less known profession, is no different, and sometimes less understood as a result. Below we explain in simple terms some of those key words and phrases to help more people understand what we do, how we do it, what's involved and to be able to articulate the problems and benefits better.
alcove: 'nook', 'cubby'
Definition: A recessed part of a room which is an ideal space to put a bed or other furniture to house something useful.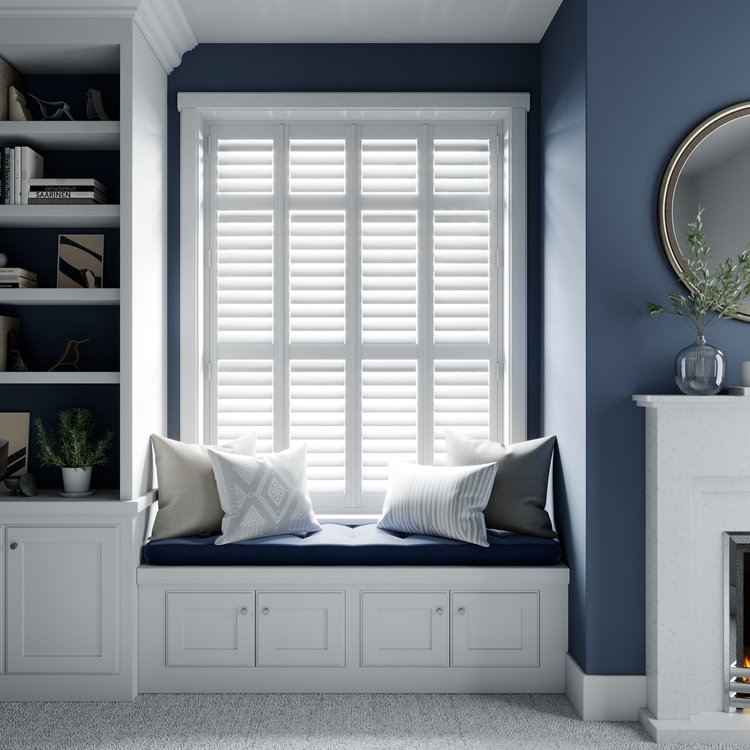 back-stock:
Definition: Additional supplies of regularly used household products, stored together and away from in-use products.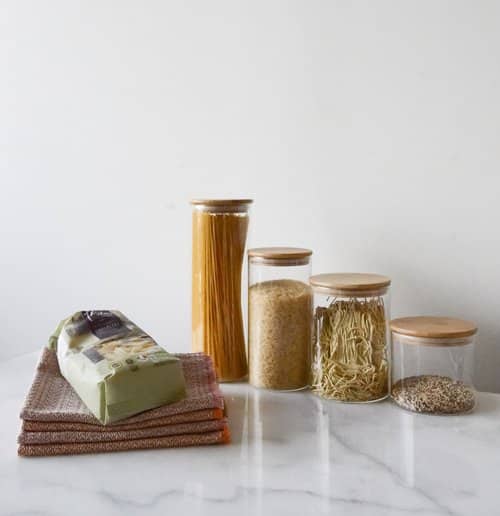 bin method:
Definition: The practice of using one or number of bins to help collect, or sort belongings into categories.
consultation: 'consult'Definition: A meeting used before starting a decluttering or organising project to discuss the challenges steps and goals for the project.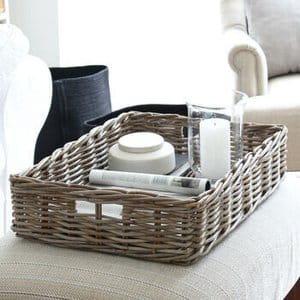 container: 'basket', 'bin', 'insert' Definition: Any vessel (including a shelf or cupboard) which is used to create limits for a group of items.
declutter: 'edit', 'purge'
Definition: The process of removing any items from your home which you longer want or need. See "Clutter"
divider: 'expandable divider' Definition: An adjustable tool to create two or more smaller spaces within a drawer. Can be made of wood, acrylic or plastic.
drawer insert:
Definition: Open container which can be put into a drawer, to create smaller units of space for organisational purposes. Can be made of fabric, wood, or plastic.
expandable shelf:
Definition: Uses tension or permanent fixings to create additional shelf space within any wardrobe or cupboard.
functional storage:
Definition: storage chosen specifically to help improve a specific task or make better use of space. Examples include under-stair cupboards.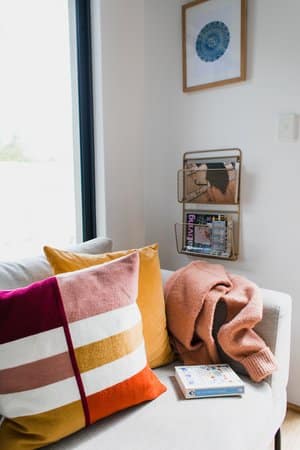 glue dots:
Definition: Small removable, sticky circles, used to secure drawer inserts and prevent them from slipping within drawers as they open and close.
hoarding:
Definition: A persistent difficulty with discarding possessions because of a perceived need to keep them, regardless of value.
junk drawer:
Definition: That one drawer in every home which stores a miscellany of items from batteries to stamps.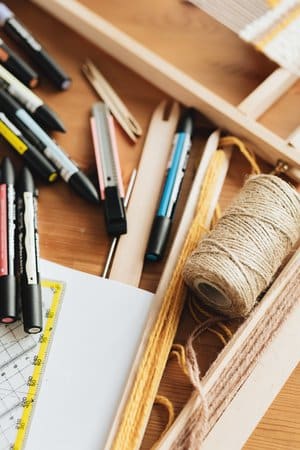 KonMari:
'KonMari Method' Definition: Approach to decluttering and tidying created and made famous by Marie Kondo.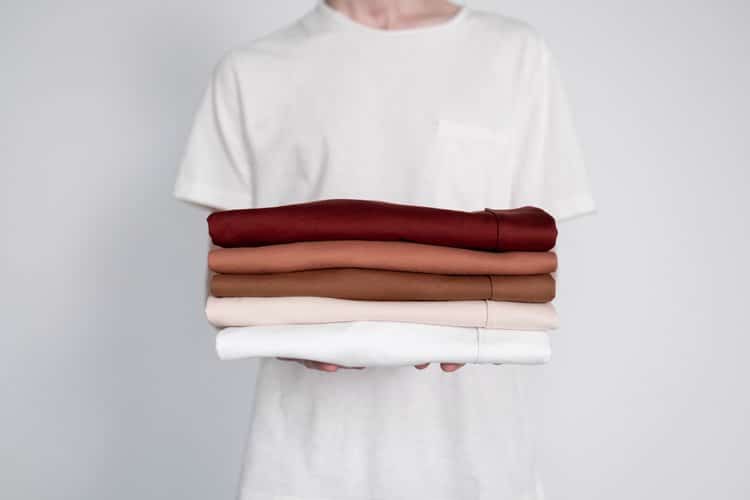 labels:
Definition: A set of instructions used in organising systems to inform and direct the users to manage and maintain those systems.
labeling:
Definition: The process of creating and installing a system of labels to make staying organised easier.
Marie Kondo:
Definition: Pioneer of the decluttering and organisation industry, famed for filtering based on whether belongings "spark joy" to their owner.
memory box:
Definition: A container specifically used to store items with a sentimental value.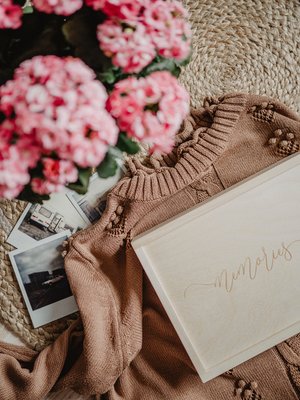 minimalism:
Definition: A a system of home-management where adherents strive to retain and use only things which serve a purpose.
one-in-one-out policy:
Definition: method to prevent over-buying. For every item you add, something needs to be removed to make way for it.
organisation: 'home organisation' Definition: the process of designing an environment and implementing systems to simplify the running of a home.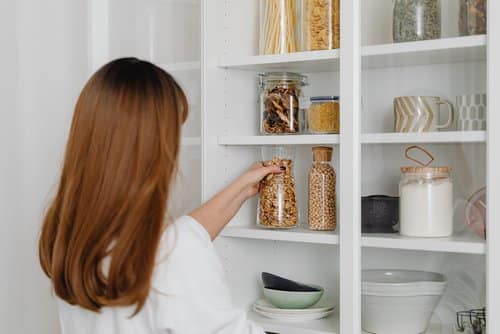 quality over quantity:
Definition: decluttering mindset that helps simplify your life and reduce the number of belongings, giving you less to organise and worry about.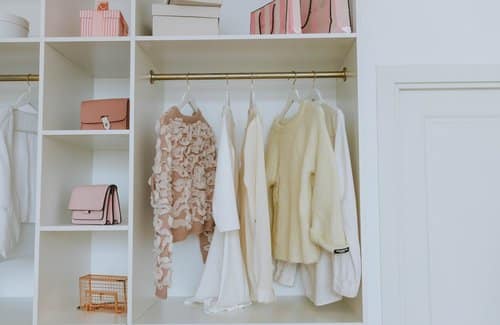 rainbowification:
Definition: Method popularised by the Home Edit, for organising a collection of things by order of the colours of the rainbow.
reverse hanger method:
Definition: Method of reversing clothes hangers until you wear them. Used to identify those you haven't worn that can be potentially removed.
rotation system:
Definition: Used to reduce the amount of items in active use, by storing some elsewhere periodically. Particularly useful for toys or seasonal clothes.
shedding: 'dumping'
Definition: Action of dropping bags, shoes and items of clothing on first entering the house. Typically takes place in hallways or mud-rooms.
shelf riser: 'riser'
Definition: A platform within a cupboard which creates additional surface area for storage. Often allows for storage on top and underneath.
Swedish death cleaning:
Definition: A cleaning and planning exercise designed to prevent loved ones from having to organise after your death. 'Döstädning' in Swedish.
tension rod: 'alternative', 'alt2'
Definition: Expandable pole with removable fixings, used to create additional hanging space within a wardrobe or cupboard.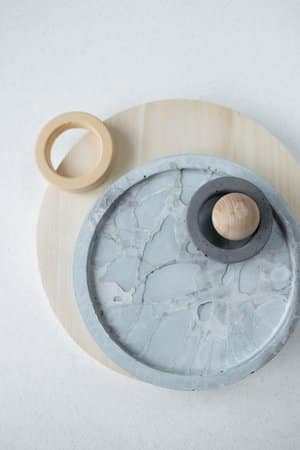 The Home Organisation: 'THO'
Definition: A professional organising company whose mission is to help everyone live in better homes.
turntable: 'lazy Susan'
Definition: Allows stored items to rotate on a surface for easier access. Often used with bottles or supplies in kitchens, play rooms, and bathrooms.
velvet flock hangers:
Definition: slimline, soft hangers that maximise useable space in a crowded wardrobe. Flocking provides resistance to clothes slipping off.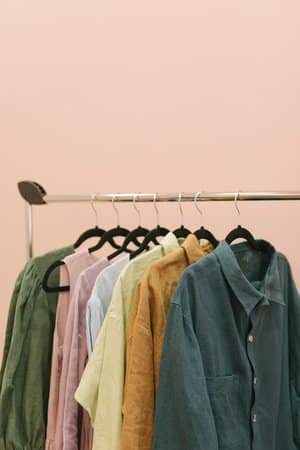 wall space:
Definition: An often underused space which can be used to create additional storage space.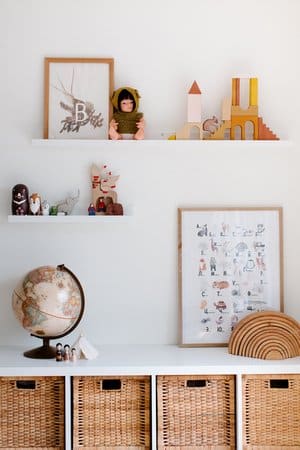 zoning:
Definition: The act of creating a number of areas or "zones" to group belongings, designed to make them easier to locate or put away.
20/20 rule: '20/20 method'
Definition: A simple rule to aid decluttering decisions. It states "if you can replace something in less than 20 minutes for less than £20, you don't need to keep it".